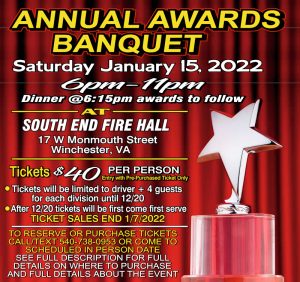 SATURDAY JANUARY 15, 2022
6:00 pm – 11:00 pm Dinner @ 6:15 awards to follow
SOUTH END FIRE HALL
17 W Monmouth Street
Winchester, VA
Tickets $40 per person
Entry with Pre-Purchased Ticket Only
Tickets will be limited to top 10 in points +4 guest until 12/20  After 12/20 tickets will be first come first serve Ticket Sales End 1/7/2022  TO RESERVE OR PURCAHSE TICKETS
CALL/TEXT: 540-738-0953 OR COME TO
SCHEDULED IN PERSON DATE
Please note
If you are a driver attending you must purchase your ticket by December 19th to receive a trophy.
To purchase / reserve tickets
In Person Sales @ Winchester Speedway
Saturday December 11, 2021 between 1-3PM
In Person Mon or Wed  through January 7th between 5-7 @ ARC
Set up drop off point or online payment by contacting via / call text: (540) 738 0953
Mail Check (not preferred due to mail delays)
Winchester Banquet
Attn: Holly Kaiser
300 Layside Dr
Winchester, VA 22602
If not attending please also let us know so we can offer your tickets to others wanting to attend.
Alcohol will be BYOB with restrictions. ABSOLUTELY NO GLASS. You will only be permitted (1) 12 pack of beer per person and (1) bottle of liquor. If you bring alcohol you must check it in upon arrival a bartender will be onsite to pour alcohol and regulate consumption. The bartender will be able to cut off alcohol consumption. When  you are ready to leave for the evening you may pick up any remaining alcohol that you brought, but once you obtain the alcohol you must leave the premise with the alcohol and will not be permitted to  return.
No one under 21 will be permitted to bring alcohol or drink alcohol onsite. The venue personnel will be monitoring alcohol consumption in addition to other staff. If under 21 is caught consuming alcohol they will be escorted off the property without a refund.
No alcohol will be permitted outside. You can only bring alcohol in when you first arrive. Once you have been checked in you cannot bring additional alcohol in.   Remember  this is a track event and you are responsible for your crew and any issues at this event can result in disciplinary  action for the 2022 racing season.
Venue staff will also have discretion to cut off and remove any induvial that is not acting appropriately. We are grateful to find a venue with large capacity that is able to meet our needs so let's be respectful so we can continue to have this venue option in the future.